By Date:
Campus news
Hong Kong Professionals & Senior Executives Association (HKPASEA) and Lingnan University have joined hands to organise a leadership mentoring programme, which involves 18 members from the Association serving as mentors for 38 students. The mentors, who are leaders in their respective professions, will offer advice and guidance to mentees, so that they can make better career planning before entering different industries. Students can also learn from their mentors interpersonal and problem-solving skills as well as on how to set their life goals.
The programme's kick-off ceremony held on 9 April 2011 was officiated by HKPASEA President Mr Herman S M Hu, JP and the University's President Prof Chan Yuk-Shee.
Speaking at the ceremony, Mr Hu said the leadership mentoring programme aimed at helping students to extend their horizons and social networks, so as to enhance their capacity for social mobility. One mentor would look after one to four mentees, and activities such as talks and high-table dinners would be organised.
President Prof Chan Yuk-Shee thanked HKPASEA members for volunteering to serve as mentors for the programme to help nurture leaders for tomorrow. He called on the selected students to make the most of the opportunity to learn from their mentors and get well-prepared for their future lives and careers.
A sharing session was held after the ceremony. HKPASEA members who have joined the programme as mentors include Mrs Fanny Law, GBS, JP, Director of the Fan Family Charitable Trust Fund; Legislative Council members the Hon Paul Chan Mo-po, MH, JP and Dr the Hon Samson Tam Wai-ho, JP; Dr David Sun Tak-kei, BBS, JP, Managing Partner of Ernst & Young Far East Area; Ms Quince Chong Wai-yan, Director of Corporate Affairs, Cathay Pacific Airways Ltd and Mr Samuel Yung Wing-ki, MH, JP, Senior District Director of AIA Co (Bermuda) Ltd.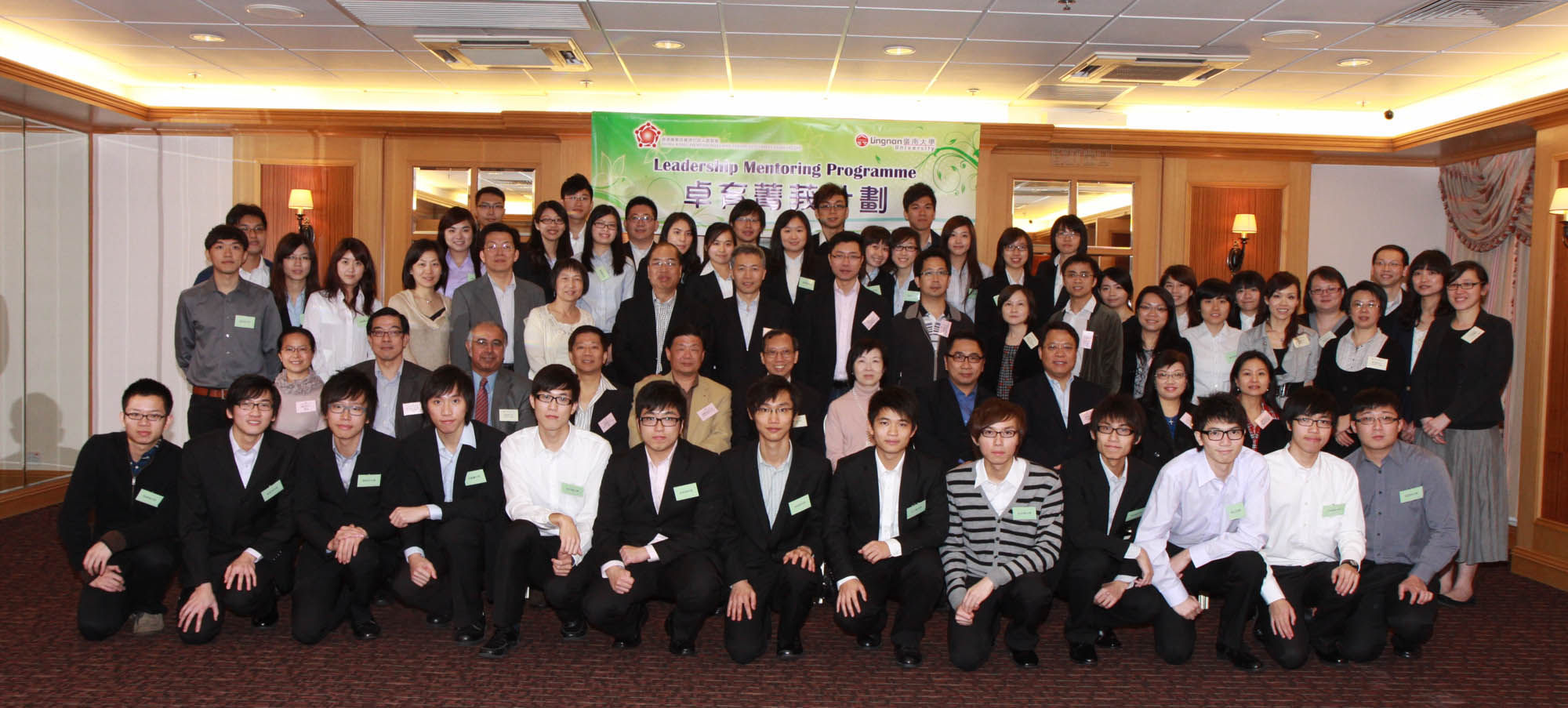 Mentors and mentees of the Joint Leadership Mentoring Programme take a group photo with Lingnan staff after the ceremony.