By Date:
Awards and people
Lingnan University presented 430 scholarships to 303 students at its annual Awards Presentation Ceremony on 4 April 2011. More than $10 million in scholarships and awards were given to students in recognition of their outstanding academic and personal achievements.
Officiating at the ceremony was Mr Albert Ip, Managing Director of Investments, Pacific Rim, Merrill Lynch (Asia Pacific) Ltd and member of the Council and Court of Lingnan University. He commended the values of Lingnan University's liberal arts education, which emphasises broad-based learning, whole person development, organisation and communication skills as well as social consciousness. He also shared with the students what he has learnt along the way of getting through life. "Follow your passion and stay true to yourself. You can always make a choice in life," said Mr Ip.
In his address at the ceremony, President Prof Chan Yuk-Shee expressed his gratitude to the donors for their unfailing support to Lingnan University over the past years. He also congratulated the scholarship recipients on their achievements and placed high hopes on them as ambassadors of Lingnan University. "We shall look to them, in due course, to spread Lingnan's liberal arts spirit and to contribute their knowledge and skills to serve our community," he said.
"The Most Distinguished Student of the University Award" this year went to Ms Betty Huang Shan, a year-four BBA (Hons) in Finance student who achieved excellent academic performance with a grade point average of 3.97. With the belief that one should step out of one's own territory and embrace the world, Betty has also demonstrated strong track record in community services and extra-curricular activities, which include her participation in the University Investment Research Competition, the Hong Kong Model United Nations Conference and the Shanghai World Expo Tour Exhibition.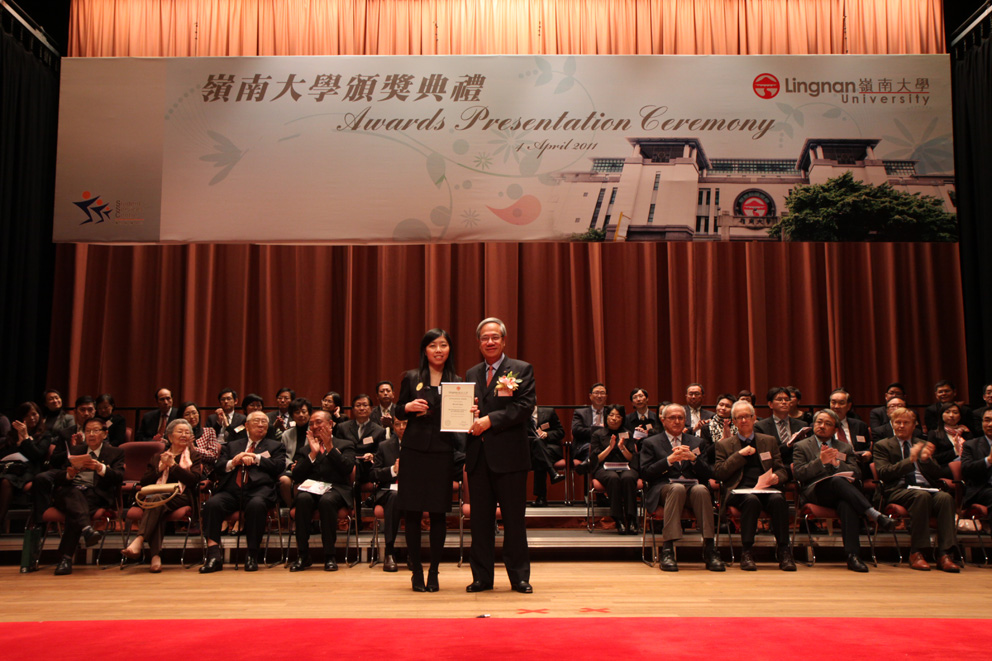 Mr Albert Ip presents "The Most Distinguished Student of the University Award" to Ms Betty Huang Shan.