By Date:
Research and academic activities
Lingnan University announced the results and recommendations of a 2-year research on "Hong Kong as an International Financial Centre for China and for the World" at a conference jointly organised by the Hong Kong Institute for Monetary Research (HKIMR) on 10 December 2010. Supported by one of the largest Policy Research Grants from the Hong Kong Research Grants Council (RGC), it is the first ever comprehensive and systematic examination of Hong Kong's strengths and strategic needs as an international financial centre.
Vice-President Prof Jesús Seade, who headed the research team, said Hong Kong needs to make its financial markets and products more user-friendly and attractive to global users to stay competitive. Prof K C Chan, Secretary for Financial Services and the Treasury, gave an important opening address at the conference, as did Mr Michael Buchanan, Managing Director and Chief Economist of Goldman-Sachs (Asia); Mr Matthew Harrison, Head of Research and Corporate Development at HKEx; Prof Leonard Cheng, Dean of School of Business and Management at HKUST; and Dr Alicia Garcia-Herrero, Chief Economist for Emerging Markets at BBVA.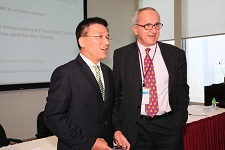 Prof K C Chan, Secretary for Financial Services and the Treasury
and Prof Jesús Seade, Vice-President of the University.