Alumni Activities
校友大使計劃 Alumni Ambassador Scheme
「校友大使計劃」希望透過校友之間的網絡來加強母校與校友之聯繫,提供機會給校友擔當聯絡的角色,藉此校友大使不但可與昔日同窗保持緊密的聯繫,也為回饋母校作出貢獻。
招募熱心的校友! 只要您是嶺南大學(或其前身自1967年之嶺南書院及嶺南學院)的畢業生,便可自薦或由大學學系/部門推薦成為校友大使!
Alumni Ambassador Scheme aims to strengthen the connection between the University and alumni. It offers alumni a unique opportunity to connect with fellow classmates and make meaningful contributions to the alma mater.
Enthusiastic Alumni Wanted! If you are a graduate of Lingnan University (or its forerunner Lingnan College in Hong Kong since 1967), you can nominate yourself or be nominated by the University departments/offices to be Alumni Ambassador!

More...
Lingnanian Partnership Scheme - 2020 Summer Internship Programme
The 2020 Summer Internship Program is launched under the Lingnanian Partnership Scheme. It will be jointly organized by Lingnan University Alumni Association Hong Kong (LUAA) and Lingnan University to line up internship partners and students of high calibre. We are proud that many of our alumni are specialists in different professions, self-employed, or holding senior positions in the commercial world.
The main objective of this program is to extend Lingnan students' all-round competence in the real working environment under the leadership and guidance from our experienced alumni. It is expected that this program will motivate more alumni to get in touch with their junior brothers and sisters in Lingnan and, as a result, to unite most if not all Lingnanians to work together for the betterment of Lingnan education and its image.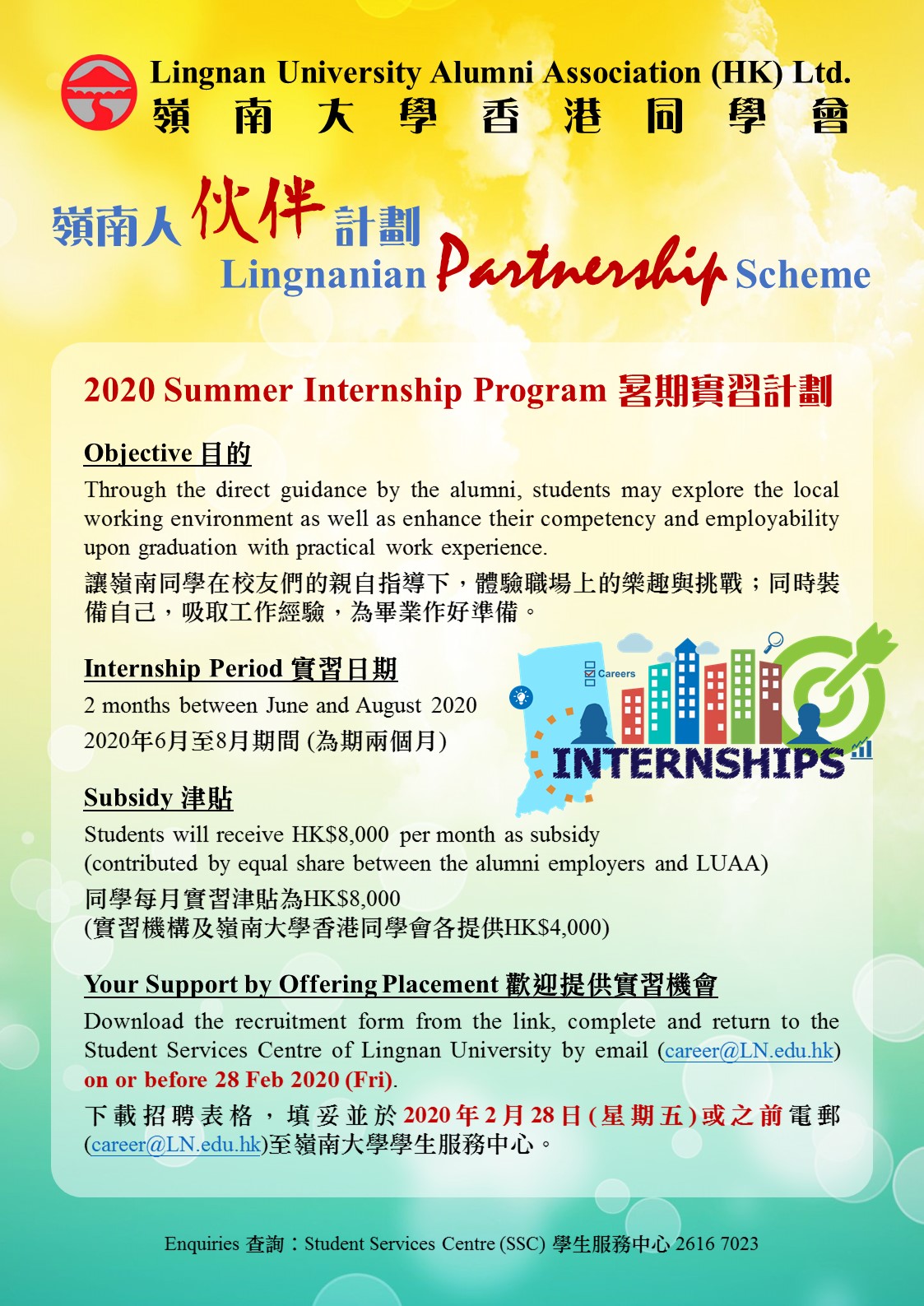 More...
Campus News
Accountancy postgraduates benefit from Singapore study tour
A group of LU students and alumni of the Master of Accountancy programme joined a study tour to Singapore in December.

More...
Students and top executives exchange thoughts at CEO Luncheon Series Talk
Organised by Career Development Committee of LU, the first Lingnan CEO Luncheon Series Talk was held on 20 January at which senior management of Hybribio Ltd shared the company's retrospect and prospect as well as leadership insights with 30 Lingnan students.

More...
LU delegates attend 5th Annual Meeting of Sun Yat-sen University Cooperative Development Committee
On 16 January, a delegation of senior academic and administrative members of Lingnan University (LU) attended the Annual Cooperative Development Committee Meeting at Sun Yet-sen University (SYSU), LU's sister institution.

More...
Upcoming Events
Seminar on "Marx's Theories and Beyond on Working-Class Solidarity"

More...
Booktalk on "Museum Processes in China"

More...
Annual MCS Symposium on "Protest and Vote in Hong Kong Cultural Studies"

More...
Symposium on "Innovation in the Era of Big Data"
| | | |
| --- | --- | --- |
| Date | : | 20 Mar 2020 |
| Time | : | 9:30 am - 5:30 pm |
| Venue | : | Lingnan University |
| Enquiries | : | 2616 8373 / hkibs@LN.edu.hk |
| Speaker(s) | : | Dr Lee George Lam, BBS, Chairman of Hong Kong Cyberport Management Company Limited |
| | | Prof Witman Hung, JP, National People Congress Deputy; Executive Chairman, Chinese Big Data Society |
| | | Prof Ivy Yang, Associate Director, Hong Kong Institute of Business Studies, Lingnan University |
| Organiser | : | Hong Kong Institute of Business Studies and Faculty of Business, Lingnan University |
| Website | : | https://www.ln.edu.hk/f/upload/45780/poster_content%20V2.pdf |
| Remarks | : | Language: English |
| | | Registration Deadline: 13 March 2020 |
| | | Registration Link: https://www.ln.edu.hk/sys/regbuilder/registration/Symposium_Innovation_2020 |

More...